....Waiting for breakfast. Washed and packed up we bounded down the stairs to greet a very nice Québec couple who were ecstatic to have someone to speak French to. He was an aerospace engineering instructor and I don't recall if his wife mentionned her line of work or not. Either way it was refreshing to have intellectual conversations with people who were from a different part of the world. We had a good breakfast, said our goodbyes and hit the road. My third inclination of co-pilot funnies hit when my mother was sure we were going the wrong way., but we weren't. Off we went on the old highway on the north shore of Nova Scotia, (thinking we'd get to see the ocean, the beaches, the shores ha!! with binoculars maybe) destination Pugwash, to view the clan gathering and the strong gaelic influence, the street signs in both languages. Unfortunately, upon entering Pugwasharound 11:00ish, July 1st, Canada Day, we soon realized we were driving directly into barricades, a driving nightmare as thousands of people lined and walked the streets, and a cop was directing traffic. (I'm not a crowd person, so unfortunately we had to quickly forget about the leisurely visit we had planned of Pugwash and its Irish heritage)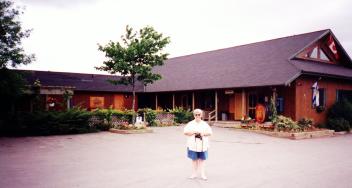 We quickly exited and drove on to Malagash to visit a winery (Jost) something neither of us had ever seen before. The vineyard's entry was a long dirt road that lead to rows and rows of grapevines and a nicely kept wooden building. We parked and entered. We were greeted by very nice girls, and asked if we'd like to taste any of their wines. We said we would. My first request was for Ice wine as I've heard they are a ?. It was the only one that had a cost to it. I sipped at it. The wine was very ? and sweet. The grapes, we were told, are frozen as they are left on the vine untilDecember. When they are pressed, only two drops of grape juice is left. It packs quite a punch. But I don't think it's something I would drink often. (Especially at $50.00 a bottle for a few ounces only) After tasting a few more different samples, I was starting to feel a little light headed. We walked around, bought a few bottles of wine, some souvenirs, (I got two vine plants for my sister) and took a few pictures. Here's mom in front of the winery.
Next destination: Tatamagouche. We planned to stop there to visit a railway museum but somehow we missed it and drove right through the place without seeing much? We stopped at Brulé, which has a scenic park, for lunch. After a few sandwiches, some water and a nice fruit salad we were off again.
We wanted to see the Alma Gardens which boasted having over 200 types of perenials & such & forth, we were expecting a nice big botanical garden. I guess the ad was quite misleading. It was nothing but a garden in a backyard and a little hothouse. (A man was standing outside, he looked up at us then went on with what he was doing. Only when he saw we turned around and started walking away did he say "Can I help you?") Be weary of anything that's "FREE". Off we drove passing places such as Pictou, Stellarton and Malignant Cove, the latter being named after the HMS Malignant which was shipwrecked there in 1774.
Finally, first glimpse of coastal areas came on the shores of St George's Bay. Very beautiful. We ended our second day of travel in Antigonish. St Francis Xavier (St Fx) university is situated here. We stayed at Hestain B & B. She had just opened for business, we being her 3rd customers. She had a friendly cat, a bunny and a chocolate lab. I saw an Evening Grosbeak, my first ever, at one of her feeders. After going out for a good supper mom and I laid on my bed, (we always had a room with two beds) peering out the window at the feeders out back, listening to all the birds she had around the house. We got to bed early enough and slept like logs in big comfy beds.
(I woke up next morning to....)

The Trip from Moncton to Saint John the long way around
Day 1 Day 2 Day 3 Day 4 Day 4-2 Day 4-3 Day 5 Day 5-2 Day 5-3 Day 6 Day 6-2 Day 6-3 Day 7 Day 7-2 Day 7-3 Day 8 Day 9 Day 10