(.....my daughter talking to herself? I opened one eye, took a peek, she had the cat of the house on her bed.)
Came down to breakfast, (to find fresh blueberry muffins, cereals, juices, tea or coffee, etc..) met a very nice young lady who was a Social Worker who worked on a millitary base near Halifax but she resided in Cow Bay.
Off and running again to commence the first day of Cape Breton Island.

At Port Hawkesbury I took a wrong turn but my co-pilot/mother caught it right away and we were back on track. It was a very foggy morning and several times, the fog gave way to some splendid backdrops.

(In backgound here you can barely see the first sight of Cape Breton we got as we approached the Canso causeway area.)
We headed for Isle Madame. A French area of the island but their dialect is much different than ours. They sound like anglophones trying to speak French. (We got to hear them speak French but we had to ask and speak to them in French first or else they would have spoken to us in English. They said they would never speak French to strangers for fear of being laughed at which, is sad I think, it's their language, its' a nice accent and they should keep it and be proud of it. That seems to be what "parlez le bon francais" seems to do to these people. I always say speak 'your' language whatever it is and be proud of it and respect others. )
(We tried to visit the "LeNoir Forge" in Arichat but the doors were locked. This forge/museum is a restored blacksmith shop which had been built in 1793. Arichat is one of the oldest communities in Nova Scotia and it has strong ties to the Channel Island of Jersey. In the mid 1700's it was a booming seaport.)
(Next we saw the little villages of Petit-de-Grat, and Little Anse. Petit-de-Grat is THE oldest village in the area, it is known that Basque and Portuguese people were here as early as the 1500s.)
On to St Peter's canal which is the gateway from the ocean to the Bras-D'or lakes. Its construction was started in 1854. We also visited the Nicholas Denys museum in St Peters. Near Framboise, a deer jumped out in the road in front of us. We spotted 3 Bald Eagles and an Osprey somewhere in this area as well.
We arrived at our destination for that evening, Camilla Peck's B & B.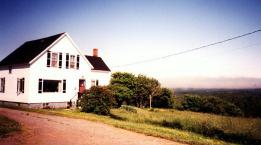 It was nice, warm and sunny when we arrived and signed in but as we descended into Louisbourg, (not even 5 minutes away) it was cold, wet and foggy. We parked at the tourist info center, found a picnic table and quickly made and ate some sandwiches. (We only ate sandwiches once a day, the other meal although Jo doesn't seem to mention those often, we had gorgeous meals in restaurants) Took a quick drive to Main a Dieu, small little village a few minutes away. One of its founding familie's descendants, the Martells still live there today. It was so foggy we barely saw anything. Cold and tired we drove back to our B & B, which was a nice farm. We took a nap, and then nothing like a hot bath to warm the bones. Being rested, after having had supper in Louisburg, mom and I went to a "Ceilidh" which is usually like a kitchen party. This one was more like a concert, it involved the MacDonald family, Hugh MacDonald and his family. Singers, tap dancers, fiddlers, guitar players. (They served tea and oatmeal cakes) It was held at the Louisbourg Playhouse which was built to look like a 17th century style theater. A disney movie was filmed in Louisbourg and the playhouse was used in a scene where an indian fights a bear. (A Warrior's Tale, 1994)
We arrived back at the B & B quite late, in pitch black conditions, no street lights and not a sound. I was trying to unlock the trunk and accidentally hit the alarm button on the remote for the car, Lights started flashing, the horn blew, I was so taken aback I fell over backwards onto the grass, laughing and trying to shut the alarm. The people at the B & B started coming out of the house to see what was going on. Mom and I laughed all the way to bed and then some.
Again we had a very good nite's sleep and woke up to birds singing and flying all over the back yard......

The Trip from Moncton to Saint John the long way around
Day 1 Day 2 Day 3 Day 4 Day 4-2 Day 4-3 Day 5 Day 5-2 Day 5-3 Day 6 Day 6-2 Day 6-3 Day 7 Day 7-2 Day 7-3 Day 8 Day 9 Day 10