Day six continued..

The Lincoln House, had a souvenir shop and Jo and I bought a few things such as Lavender Jam, Ostrich feathers and a nice diary.

From Lunenberg, we continued on our trip to Bridgewater, La Havre, Broad Cove and to Liverpool, stopping in to visit the Hank Snow Museum. This is where I bought his biography for my mother.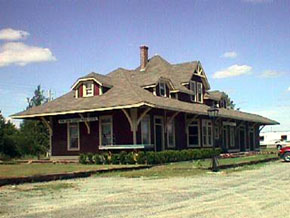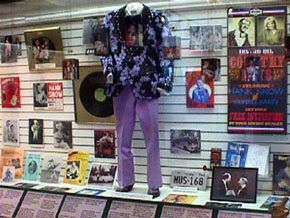 Leaving Liverpool and headed north and across inland, we were on our way to Annapolis Royal and our Bed and Breakfast there. We passed by Milton, Caledonia, Kejimkujik National Park to end up at our destination the English Oaks B&B. The owner of the B&B was a gracious lovely lady but the weirdest thing happened here. She had a fish pond in the huge backyard they had and she asked me if I wanted to go with her while she fed the fish. I said yes for sure and followed her outside and down to the pond. She started feeding the fish giving me the history of the pond as she threw some food out and I could see those gorgeous trout coming to the surface and gulping down the food. But there were others waiting to gulp down those pellets; seagulls by the dozen circling over us. This sweet lady said "Here they are again, each time I come out to feed the fish they come to steal their food" and she shooed them away with the wave of her hands. But they must have been used to her as they didnt' go very far. She said "wait a minute, I'll fix them, be right back" and be right back she was but with a gun in hand, I stood flabergasted looking at this sweet looking little lady, sporting a pellet gun. She corked that thing, breaking it opened over her knee and took aim and fired hehehe... The gulls again flew up and away in a wider circle, they must have been use to her missing hehehe.. She did this a few more times when a truck drove around the house and in the backyard, a man got out and started washing his windshields, the lady with him stayed inside as they took side looks at this woman with the gun in the backyard hehehe it was hilarious.. We found out later they were people who had one of the other rooms downstairs I guess it was the first time they saw this show..
Here are the two very comfortable rooms that were offered to us.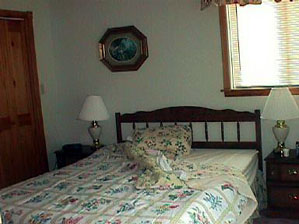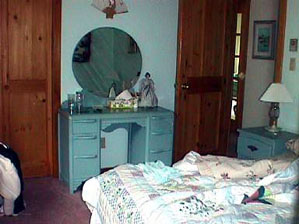 Jo and I went out to eat in a very nice little restaurant, we sat on a terrace outside and I forget what we had but pretty everything we had along our trip was good. Now after supper we relaxed, Jo watched some TV downstairs and I read up on things. Then I asked Jo if she would go with me to a tour of a cemetery in the dark. "WHAT?? have you lost your mind?" she said or at least something to that effect. She sure didnt' think it was a good idea at first and was a bit afraid to jump in on this one. Yes there were tours of the old cemetery at Fort Ann which holds some of the oldest stones in Nova Scotia and going to visit this cemetery at night with lanterns seemed like a fun thing to do, well at least I thought so.. and come to find out when we got there, so did about 80 other people the night before and almost as many showed up tonight.
We showed up a little while before the tour was to begin, we were given a certificate that says we attended the tour, we were given some gorgeous little lanterns and we were warned about watching out for bumps in the dark. We were told by the very able and talented tour leader, Allan Melanson, that there had never been any ghost who had showed up in the cemetery at night before and if we felt something soft and warm against our legs, not to worry it was probably a neighbor's cat. hehehe We were given the grand tour, bringing us to the oldest stone, giving us the history of the town as we went. It was one of the best tours I ever took day or night in or out of a cemetery and after a while I lost Jo in the bunch, she was no longer afraid of the dark hehehe, and she was actually enjoying this also.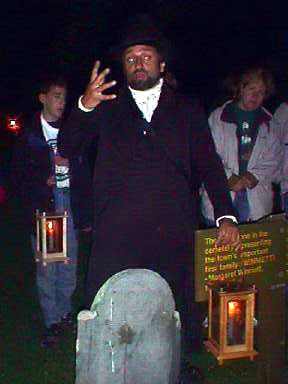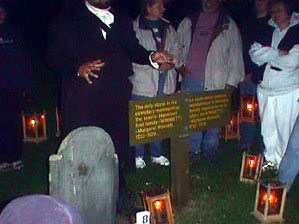 This was the end of another beautiful, gorgeous day.