After having a nice picnic outside we found this old pirate, Cabot may have escaped from or left behind.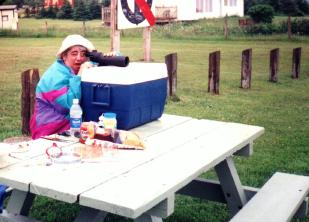 And then of course we had to do the tourist thing, the honorable thing and get our picture taken with Mr. Cabot. He seemed pretty happy about the whole thing, he smiled right through it.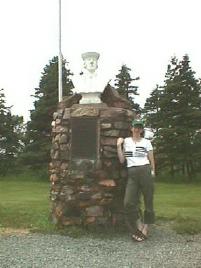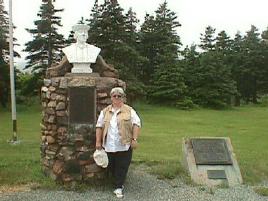 | With an eye and a belly full, we left, headed for Bay St Laurence and Cape North. From the top of this mountain, this little village gave us a breath-taking view, I believe it is Cape North? or maybe South Harbour, it is a gorgeous sleepy looking little village and there is quite some hill to descend to get to it but its worthwhile going all the way down, here is what it looked like from the top of the hill. | |
| --- | --- |
Here at Cape North, the view is splendid, looking back to where we had just been here is what we saw.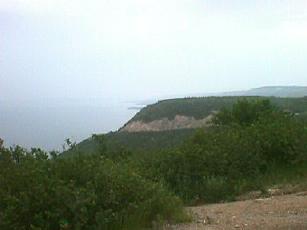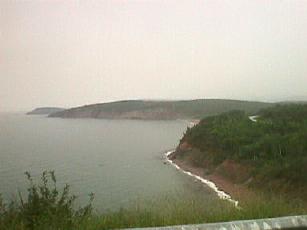 Then we were in for a pleasant surprise. At Cape North, the road ends, this is the end of the world we thought. The most North Eastern part of the trail. But as Jo is, like her mother, a bit adventurous, instead of turning around and heading back to Bay St Lawrence, she kept going a little further, taking this dirt road. Yes dirt road, no pave, narrow little road it was. She drove a few hundred feet in this road and it started getting a bit wider, and it started winding DOWN, and I mean STRAIGHT DOWN between two mountains, with no guard rails and still no pave. Gawd I'm glad it was only foggy and not raining, that road must be treacherous on a rainy day. We went around bends, still headed straight down the face of a mountain and the further we went it seemed the deeper this ravine looked and we were headed for the bottom of it, on a snake like road. The worse part was, there was no place to turn around even if we had wanted to. Finally we got to the bottom of it and what to my wondering eyes should appear, a miniature sleigh and 8 tiny reindeer. Oooops, wrong story... what to my wondering eyes should appear but a CAP center, for those of you who don't know what a CAP center is, it is a center with a few computers, where you have Internet Access. Beleive me I was too dumbfounded to even think of asking to use a computer and go on the Internet.
Meat Cove is a little village of about 50 people, one sort of B&B with 4 rooms, one camp ground, it is considered the windiest place on earth I'm sure with the wind coming off the ocean through a sort of corridor of two mountains. I even heard that the Devil lives here. There are legends of mysterious happenings at Meat Cove, people dissapearing here specially after nightfall. I know for sure that I for one have never seen so many moose "panache" I'm not sure what this is called in English, it is the wood that sticks out of their head in spikes :). There was one of those in every square foot in the area we were in I'm sure.
| | The center was in a newly built little cabin, and they had I believe two or three computers in it. The lady was new to it, she didnt know anything about computers she said. She also said someone was coming in the following day to give them courses on how to use the computers. We didnt even visit the rest of the little village which is suppose to be pretty special. We headed up that hill and on our way to see the rest of the Cabot Trail. But now I could say I had been to the end of the world. |
| --- | --- |
| Back on top of that dear mountain, and back to Cape North, across the Highlands National Park, we left the shore lines of the trail and cut through the wooded area of the park, coming out at Pleasant Bay and headed for Cheticamp where we had reserved a nite in a Bed & Breakfast. | |
| --- | --- |

The Trip from Moncton to Saint John the long way around
Day 1 Day 2 Day 3 Day 4 Day 4-2 Day 4-3 Day 5 Day 5-2 Day 5-3 Day 6 Day 6-2 Day 6-3 Day 7 Day 7-2 Day 7-3 Day 8 Day 9 Day 10