Leaving Cheticamp in pouring rain and high winds we were headed for Halifax. About a mile outside the village the rain stopped and the weather was real nice again. Going through Cap le Moine, Inverness, Mabou, Graigmore and Port Hastings to bring us back to the starting point of our trip around Cape Breton Island. Heading to Antigonish and then down inland to the southern part of the province through Lochaber, Aspen, Sherbrooke, Liscombe, Ecum Secum, Sheet Harbour, Spry Bay,Tangier, Jeddore Oyster Pond, Musquodoboit Harbour, Porters Lake and finally Halifax. A drive through the city, a quick shopping trip in one of the malls, especially to buy Erica (granddaughter) some little stuffed creature she is collecting, and then on our way to Lunenburg where we had a reservation in a Bed and Breakfast.
Of course we had stopped for lunch by now somewhere around Ecum Secum or was it Tangier? This is where I learnt that seagulls do not eat anything and everything they find. The day was real cool, we were by the waterside in a small resting place, we made some sandwiches, sat in the car to eat them and forgot we could have some visitors. Yes we had left bananas, tomatoes, bread etc.. on the top of the cooler in case we wanted more well within seconds of our sitting in the car we heard a racket outside and saw our bread bag flying away with a banana close behind it :) opening the car door, just in time to see them falling from the seagull's feet. One of them was even fast enough to swoop back down to take one last jab at the banana but only succeeded in making a hole in the peel. We soon found out the same had happened to our tomato. So we decided to give them the banana and the tomatoe but they wouldnt come near it again, fussy little things I guess.. or do they know something we don't about those two particular foods. Didn't our ancestors think tomatoes were the devils' food?
From Halifax we drove to the sooooooo talked about, sooooooo popular Peggy's Cove.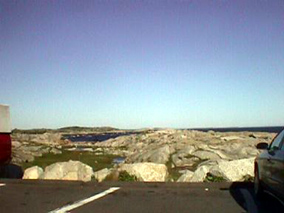 I was happy to see as we first got here, signs everywhere warning people about getting too close to the side, about walking on the rocks which are always wet even on calm clear days. So many people have been engulfed by the sea off those rocks and people were being made aware of the danger. YET, YET, as we went out on the rocks by the lighthouse which is still about 75 to 100 feet inland, I could see one family in particular with the parents walking along on the rocks and two children 5 to 10 feet from the edge of the water running and playing tag no less. Where are those parent's head? apparently they have none. Its just baffling to witness such plain stupidness on the part of some parents. There were of course a few more mindless people walking as close to the edge as the kids were but these kids were only about 10 - 12 years old.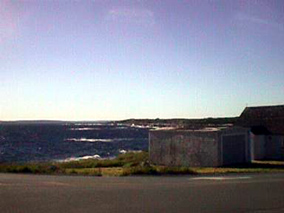 I mean this is what those rocks look like out there, different, gorgeous to look at but very treacherous and the weather changes at the drop of a dime, with high waves that can swoop you into the sea where you will find your final resting place that is assured.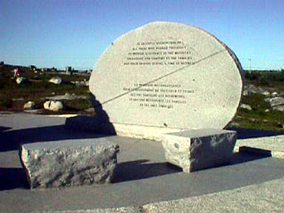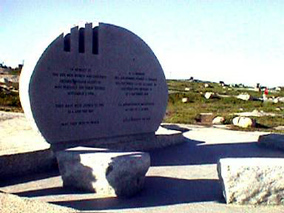 Speaking of final resting places, just after leaving Peggy's Cove, we came to the monument seen below, which was erected to commemorate the 229 children, men and women who died here on September 2, 1998. Here again as we were leaving, we met this woman with her daughter who must have been about 15 years of age, the daughter said "Why are we stopping here anyways?" the mother replied "This is where the people died in an airplane crash a few years ago", the daughter's reply was "SO? this is so dumb", and no reply from the mother.. Where has our young people's respect gone to?

The Trip from Moncton to Saint John the long way around
Day 1 Day 2 Day 3 Day 4 Day 4-2 Day 4-3 Day 5 Day 5-2 Day 5-3 Day 6 Day 6-2 Day 6-3 Day 7 Day 7-2 Day 7-3 Day 8 Day 9 Day 10