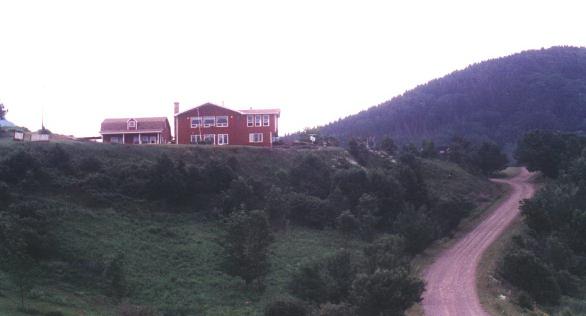 This is where our fifth day ended, with a very nice lady, Veronica Hache, at the "Cheticamp Outfitters Inn". As soon as we entered this village, the Acadian culture could be felt and seen. The first clue was the huge Roman Catholic church which was the first such church we'd seen on our trip so far. The homes have that Acadian look and the lady at the B & B has the most gorgeous old acadian accent we've ever heard. She was however trying to hide it by speaking "le bon francais" as she said. It is too bad that a few are ruining it for others by "expecting" them to speak the "bon francais".
After a little rest and a shower, we headed to town for a lobster supper. Just outside the restaurant, wouldnt you know it, I met this handsome sailor, hummmmm almost made me wish I stayed here. :) well of course he smoked!!! that was a bit of a turn off but... I've been alone for a long time.


But then I found him a few minutes later making googly eyes at my daughter. MEN!!

The Trip from Moncton to Saint John the long way around
Day 1 Day 2 Day 3 Day 4 Day 4-2 Day 4-3 Day 5 Day 5-2 Day 5-3 Day 6 Day 6-2 Day 6-3 Day 7 Day 7-2 Day 7-3 Day 8 Day 9 Day 10